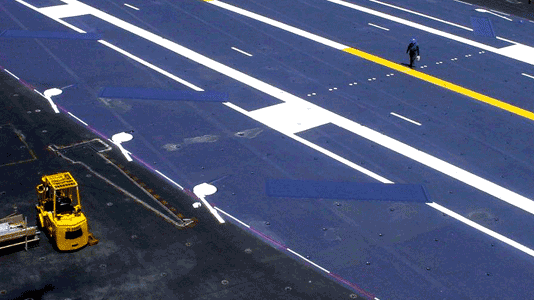 USS John C. Stennis
Surface prep: Remove and replace non-skid throughout flight deck by ultrahigh-pressure water jetting to NACE No.5/SSPC-SP12 standard. With pressures ranging from 36,000 psi to 40,000 psi. Deck edge work and other inaccessible areas will be mechanically cleaned to an SSPC SP-11 standard and SSPC SP-2 standard.
Contamination prevention: Contained all around flight deck with 4-mil polyurethane plastic to prevent any debris or paint chips from escaping outside work area.
Coating system:
First Coat – Amercoat-137 gray.
Stripe Coat – Amercoat-137 light gray: If prior to, Dry to touch criteria.
Non-skid – Amercoat-136-AR non-abrasive/ Amercoat-138-HR abrasive.
Color toping-Amercoat-929 epoxy acrylic.
All coatings were mixed and applied in accordance with manufacturer's instructions.
| | |
| --- | --- |
| Masking off prior to non-skid application | Tie downs were coated prior to primer |
| Equipment required for prep | Primer coat application |
Copyright © 2009 Surface Technologies Corporation. All Rights Reserved.