We set the standard.
Facilities and Equipment
STC maintains six major facilities, each strategically located throughout the United States at major ports and transportation routes. The main office is in Neptune Beach, Florida, minutes from Mayport Naval Station and downtown Jacksonville. Here, on over two acres, the corporate offices are maintained. This facility provides STC with warehouse and shop space in excess of 10,000 square feet, which is supplemented by another 15,000 square feet at STCís downtown Jacksonville warehouse. STCís other facilities are in Norfolk, Virginia, Chula Vista, California, Moss Point, Mississippi, and Ingleside, Texas, and Bremerton, Washington all which provide space for local support staff and warehousing.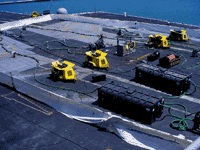 The foregoing locations give STC the mobility to respond quickly to the needs of STCís customers not only in facility areas, but also throughout the country. STC has traveled as far north as Portland, Maine, as far south as Key West, Florida, and as far west as San Diego, California. STC now travels beyond the mainland, recently completing work upon special request in Pearl Harbor, Hawaii. With this expanded demand, STC began international service, recently completing work in Gaeta, Italy and Basrec, Bahrain.
The mobility and responsiveness of STC is also the result of STCís policy of maintaining permanent, full-time crews which may be pulled from any, or all, of this facilities. This aspect is also credited as playing a significant role in STCís ability to respond to a variety of projects. STC, unlike a large segment of its competitors, also maintains a complete inventory of product and equipment. In doing so, STC can limit the immobility which arises from late, or absent, deliveries of either.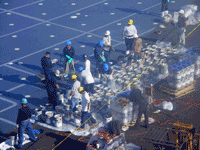 In owning its own equipment, STC can control work quality and timeliness as well as work-site safety. This has resulted in a impeccable reputation and outstanding OSHA safety record. STC owns and maintains a fleet of vehicles which provides ready delivery of crew and equipment to job sites within 1 to 3 days.
Personnel
Surface Technologies Corporation, known interchangeably in the industry as STC, is a privately owned company established by Chris Hionides, second generation ship repair and resurface entrepreneur. As President and Chief Executive Officer, Chris utilizes his business acumen, experience and education to consistently press the Company forward into advanced technology, expansion and growth. As the first foreman of STC, Chris carries with him a hands-on-knowledge of the techniques developed and utilized by STC. With this knowledge, Chris, with the supervisors he trained, continues to lead employee training of those techniques. Chris, a devoted family man, brings the ideals of truth, honesty and fair dealing to the business table Ė likely a significant factor in STC's ever-growing customer base.
Chrisís ideals and abilities are demonstrated by the STC employees, whether those employees are supervisors, staff or crew members. STCís supervisors have in excess of 90 years experience in various applications. Each supervisor has received untold accolades for performance, attitude and finished product. These supervisors have, in turn, obtained significant results through the efforts of fully-trained STC crews. These crews are made up of full-time, permanent STC employees who are devoted and loyal to STC and to the quality work it produces. This quality is further assured through the efforts of an experienced equipment and design and maintenance team which canvas the marketplace for the latest technology and which maintain STC equipment. This team along with STC employees and supervisors look to, and receive, extant staff support which includes staff counsel, experienced Contract Administrators, and trained Supply and Travel Coordinators.
Copyright © 2009 Surface Technologies Corporation. All Rights Reserved.