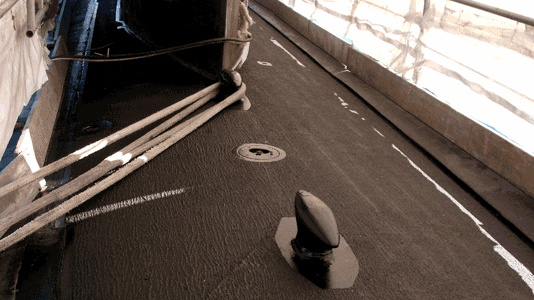 USS ASHVILLE TOPSIDE PRESERVATION
Surface prep: Remove and replace exterior topside non-skid frames-22 thru frames-65 IAW SSPC SP-10 standard. Deck edge work and other inaccessible areas to Centrifugal Blast equipment will be mechanically cleaned to an SSPC SP-11 standard. DSRV topside fwd escape hatch to be surface prepped to an IAW SSPC-SP-11 standard.
Contamination prevention: Contained all around topside of area where preservation will be in process with 6-mil plastic to prevent any debris or paint chips from escaping outside work area.
Coating system:
Stripe Coat – MS-7cz Primer Gray.
Barrier Coat – MS-7cz Primer Gray.
Non-skid – MS-375-G Black
Top coat-MS-200 Black
DSRV Hatch:
Formula-150 Primer Green
Formula-153 Top Coat Black
All coatings were mixed and applied in accordance with manufacturer's instructions. All ambient readings, conductivity readings, surface temp, surface profile, dry film and material mixing times were taken by Surface Technologies' QA representative. Conductivity tests were conducted using the BresleSampler patch and the Horiba unit recorded in microsiemens.
| | |
| --- | --- |
| Surface prep prior to primer application | Surface preped with centrifugal 110 blast track machine |
| Pre-inspection of existing non-skid topside of submarine | During application wet film readings within 3 - 10 mils |
| Dehumidification equipment | Finished DSRV hatch |
Copyright © 2009 Surface Technologies Corporation. All Rights Reserved.